This is a bespoke Adventure First Aid Kit developed between Nick, at JK Sonics and myself.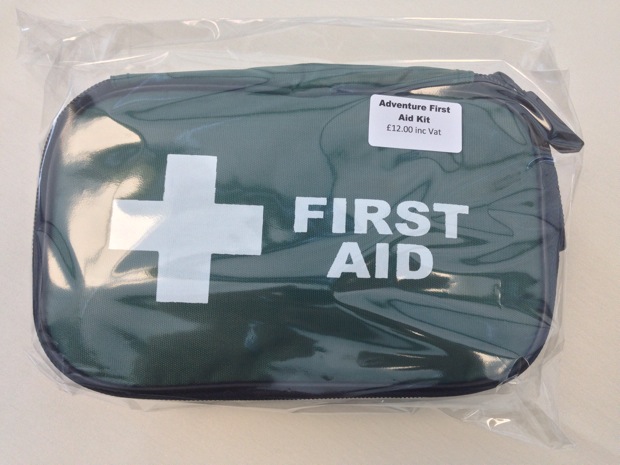 Adventure First Aid Kit
Nick and I spent several months developing this lightweight kit for adventure activities in the UK. The brief was to meet those small first aid needs, cuts, stings, burns etc that happen when outdoors but to also provide enough equipment to stabilise a more serious casualty until help arrives.
The other feature I wanted from this kit was a case big enough to hold some personal extras.
The Case
We originally chose a "drop open" case, but when I field tested a prototype, I found it was difficult to pack in my rucksack and I managed to damage the belt clip, pulling the kit in and out of my bag.
The case we went with is made from a heavy nylon with a strong loop to which a lanyard can be attached to for security. The case opens flat so it is easy to use in the field. One side has a transparent organiser pocket and the other side is deeper for storage of bulkier items.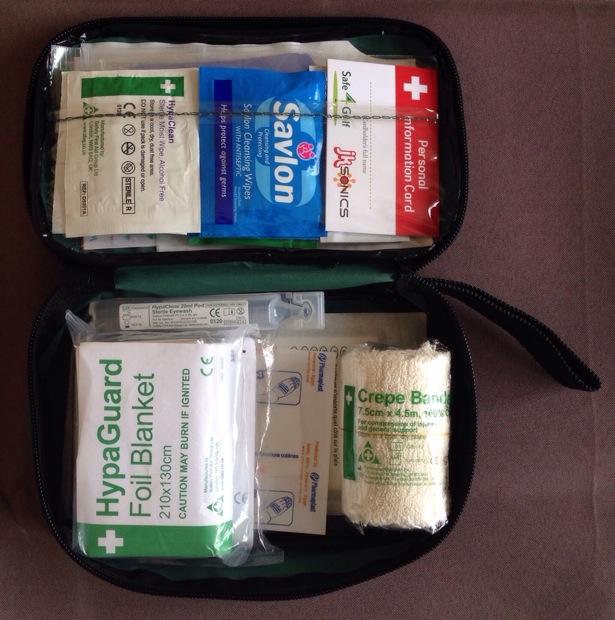 The Contents
The contents are reasonably standard for a kit of this size, available in any camping shop in the UK, but we have chosen only items that are useful and have added no "make weight". Nick was also careful to supply only the best quality components. All items where required are clearly marked with the expiry dates and refill packs are available. (If you use the CPR face shield and let Kick know when you used it, via his website, he will replace that item for free.)
We have added some more unusual items which following our many discussions we thought would be useful in our Adventure First Aid Kit:
Waterjel burn treatment – how many times do you burn yourself on a gas stove or by lifting hot handles?
Sterile irrigation water – it does not weigh much but it can be used for eyes or for cleaning wounds
Blister plasters
Large waterproof adhesive dressing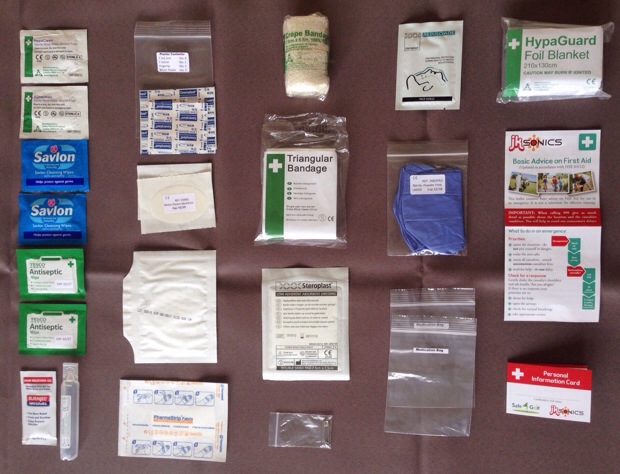 As part of the project I wrote a detailed contents list leaflet for the kit, which includes an "Incident Record Sheet". You can download a .pdf copy of the sheet from my Downloads page here.
Scissors do not come as standard in the kit as we thought most outdoor people would have a Swiss Army knife with scissors in their pocket (I carry a Swiss Card and use those scissors). If you do not carry scissors there are lightweight emergency shears/scissors available on the same web page as the Adventure First Aid Kit, which fit in the case.
My Extras
A few years ago I was walking and camping in Scotland when there was a warning about the abundance of ticks and the problems they cause – and recently the same warnings have been made here in Lincoln (see here). At the time I bought some tick tweezers and later I bought a tick card for my smaller pocket first aid kit. It was at my suggestion that JK Sonics now stock tick cards. I added one to my kit and they are available as an extra on Nick's web site.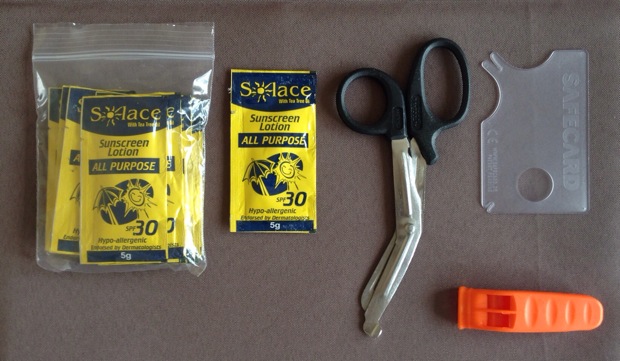 JK Sonics offers some useful optional extras for outdoor and holiday activities
The original reason I spoke to Nick was to buy a larger soft, first aid case from him so I could pack my first kit and my spare asthma medicine all in the same case. Commercial kits normally come fully packed with little if any room for extra items and if you can squeeze something in, it is then so tightly packed that it is difficult to get things out. My asthma medicine is not something you can just squeeze in.
When we got talking Nick thought it would be a good idea for his company to offer a kit that was suitable for adventure activities and holidays, that met my specification for extra space.
Your extras might be your personal medicines when wild camping in the Lake District, or your child's spare Epipen when you are on holiday, or your headache pills when you are away on a business trip. This kit gives you flexibility.
My extras are two asthma inhalers, a selection of pain killers, anti-histamine tablets, cold and flu hot drinks and some indigestion medicine.
It is supplied with some small ziplock bags which you can use to organise your personal medicines.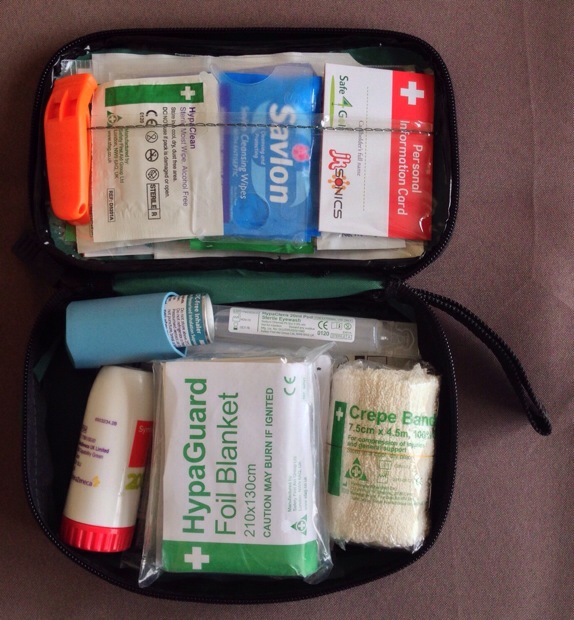 The Adventure First Aid Kit with my extras
In use
Here are a couple of images showing the kit in use. I am using a 20l pack, loaded for a day walk, including cooking equipment, water, lunch, waterproof jacket etc, and the kit fits in the top of the pack where does not take up too much room and is clearly visible in an emergency. (I usually protect the kit in a ziplock bag, to stop it from getting wet, but I removed it for these photographs.)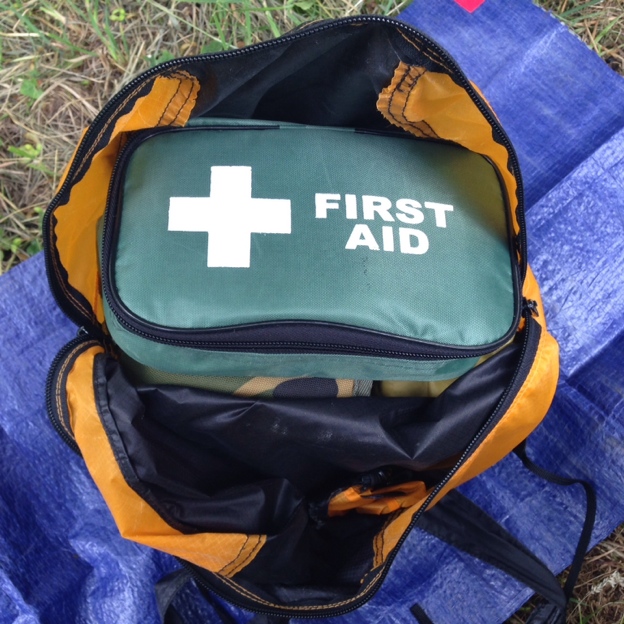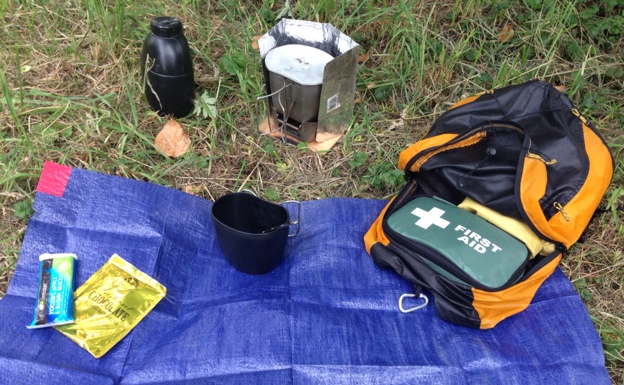 Conclusion
I consider this to be an excellent first aid kit for someone who wants a comprehensive collection of useful emergency items and the ability to customise the kit with extras. Although designed for outdoor adventure use it has many applications where a statutory kit is not required.
I am always looking for ways of making my backpacking kit lighter (see here) – I weigh everything – but to compromise on a first aid kit, when in the wilds is not sensible.
Having done our research of the major Outdoors shops in the UK, I know this kit also represents excellent value for money, provided by a specialist supplier.
If you go outdoors for your fun or go on holiday with your family buy one of these kits.
---
Adventure First Aid Kit Contents
| | | |
| --- | --- | --- |
| Cleaning/antiseptic | | |
| Moist wipe (0.9% sodium chloride solution) | 2 | For cleaning wounds |
| Savlon cleansing wipes with antiseptic | 2 | Will also soothe bites and stings |
| Antiseptic wound wipes | 2 | For cleaning wounds |
| Waterjel burn sachet (4g) | 1 | Soothes minor burns |
| Sterile irrigation water (20ml) | 1 | For cleaning wounds or as an eye wash |
| | | |
| Minor wound dressings | | |
| Water proof plaster assortment | 9 | 6x 7.2cm x 2.2cm, 2x 7.2cm x 5cm, 1x Fingertip plaster |
| Blister plasters | 2 | 6.8cm x 4.3cm |
| | | |
| Larger wound dressings | | |
| Low adherent dressing pad | 1 | 7.5cm x 7.5cm |
| Waterproof PU dressing | 1 | 8cm x 6cm |
| Skin Closure Strips | 8 | 0.4cm x 7.6cm |
| | | |
| Bandages | | |
| Non-woven triangular bandage | 1 | Can be cut up for smaller bandages |
| Cotton crepe bandage | 1 | 7.5cm x4.5m – suitable as a support bandage or for securing the wound dressing |
| | | |
| Hygiene barriers | | |
| Large nitrile, powder free gloves (pair) | 1 | |
| Flat CPR face shield | 1 | |
| | | |
| Accessories | | |
| Adult space blanket | 1 | |
| Safety pins | 2 | |
| Empty ziplock bags | 2 | For user medicines |
| | | |
| JK Sonics First Aid leaflet | 1 | |
| Personal information card | 1 | |
| Adventure First Aid Kit leaflet | 1 | |
| | | |
| Optional extras (need to be ordered separately | | |
| Tick card | | |
| Lightweight emergency shears/scissors | | Can cut clothes and bandages (37g) |
| Emergency whistle | | |
| Sun cream sachets (4g) SPF 30 | | Pack of 10 |
| | | |
Click this link to go to the product page on the JK Sonics website.
---
Please note although, once the kit development was finished, Nick gave me an Adventure First Aid Kit I am not an employee of JK Sonics nor do I financially benefit from the sales of any kits. I met Nick through The Business Club Lincolnshire where JK Sonics and Octagon Technology are members.
---
This article is sponsored by Octagon Technology
Octagon Technology – technology without tears
Responsive, reliable and reassuring IT Support Lincolnshire