Backpacking Water – bottles and bladders
Backpacking water is probably the heaviest single item I have to carry.
I used a Camelbak bladder for both Wainwright's Coast to Coast and the West Highland Way. It was very convenient to drink on the move and I did use it for other hikes and day walks. However I was always struggling to keep it clean between uses, even though I bought Camelbak's hanging and cleaning kit. the drinking tube in particular was always furring up. I did try storing it full of water but the was not very convenient so I gave up on Camelbak and bladders in general.
I vary my water bottles between two 1l bottles, taking both when required. I also regularly carry a 500ml roll up bottle for extra water and to mix "sports" drinks in.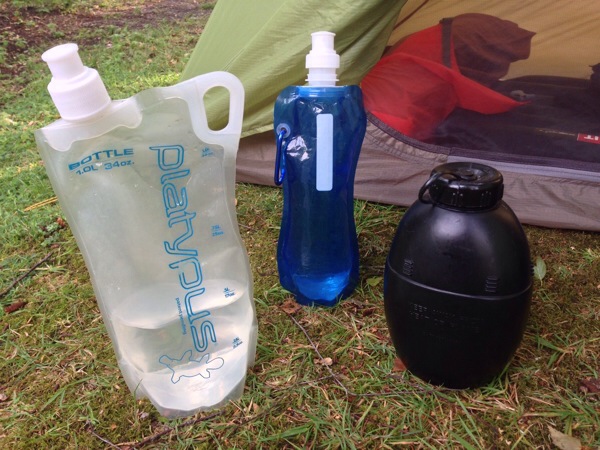 58 Pattern British Army 1l bottle
It is actually not quite 1l capacity. This bottle is a component of the military Crusader Cook Set – although I had the bottle and plastic mug for some time before I bought the rest of the kit. It is a sturdy plastic bottle with a plastic lid secured to the bottle. It has a wide mouth making it easy to fill and drink from. It is a good, strong shape to pack and fit in my backpack. Down side with this bottle is that it dribbles when poured.
Platypus 1l roll up bottle
The real advantage of this very lightweight backpacking water bottle is that when empty it takes up very little space in my bag. I have two caps, a sport drinking cap and a bottle top, but when away I usually use the sport top for ease of use. I can easily reach back and get this bottle out of the side pocket on my Golite Jam whilst on the move.
When I get home I blow the bottle up and let is stand on the window will until it is dry – so far it has not gone mouldy.
I'd recommend either of these bottles for camping, backpacking and outdoor use.
Platypus 2l bottle
I use this bottle when I need more water, particularly when wild camping. I can carry it empty for most of the day and then fill it from a wild source using the Travel Tap filter bottle below.
Platypus bladder
This drinking tube can convert either of my Platypus bottles into a water bladder. After a trip I can disconnect the tube and it is easy to hang up and dry and it has not gone mouldy.
2l Platypus bottle and drinking tube
Travel Tap – Micro Purification Water Filter Bottle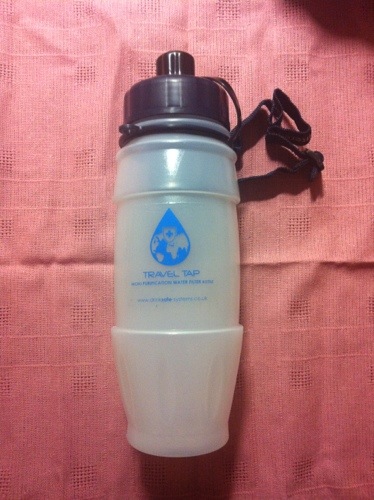 Jeremy bought me this bottle for Christmas 2013 – the specs are here.
This is a really simple, lightweight, way to produce safe drinking water whilst I am backpacking or wild camping. No moving parts, batteries or pumps – drink straight from the bottle or use it to fill another water container or pot. When I wild camped in the Lakes, September 2012, I carried 3l or 3kg of water, without the water my pack weighed less than 9kgs – since then when I have been wild camping I have used this bottle to top up my one litre bottle.
I also use this bottle regularly on longer day walks in Scotland or other more wild areas.
Water Treatment
Treating wild water so it is safe to drink can be very simple – just boil it! However it can get complicated using filters and treatments. Here is a link to an excellent explanation about water treatment from the US Centers for Disease Control and Prevention.
A Guide to Drinking Water Treatment and Sanitation for Backcountry & Travel Use.
SiS Go Hydro tablets
I regularly carry a pack of SiS Go Hydro tablets, which I made up in my 500ml bottle. I find these tablet a great way to carry an electrolyte drink and to make the backpacking water more interesting, for those times when I need it.
On multi-day trips I use SiS Rego at the end of the day so I am ready for the next day's walk. I really recommend this, I always use it and it makes long hikes much more enjoyable.
A good thing about these products is that they are readily available at camping shops and even in Tesco.