Backpacking Water – bottles and bladders
Backpacking water is probably the heaviest single item I have to carry.
I used a Camelbak bladder for both Wainwright's Coast to Coast and the West Highland Way. It was very convenient to drink on the move and I did use it for other hikes and day walks. However I was always struggling to keep it clean between uses, even though I bought Camelbak's hanging and cleaning kit. the drinking tube in particular was always furring up. I did try storing it full of water but the was not very convenient so I gave up on Camelbak and bladders in general.
I vary my water bottles depending on the activity.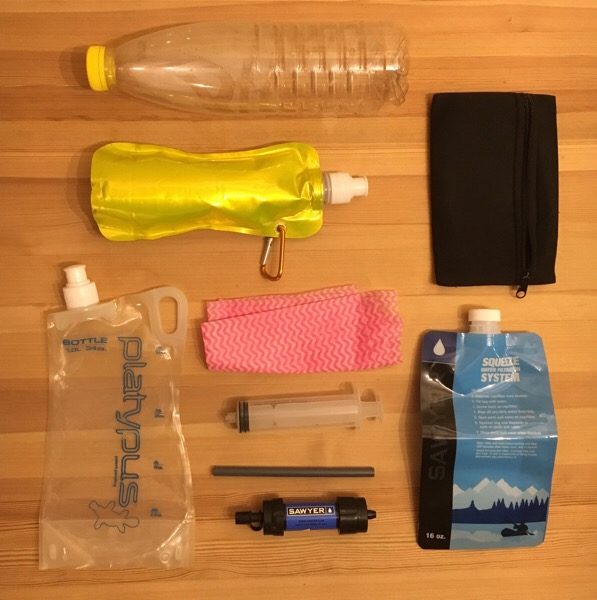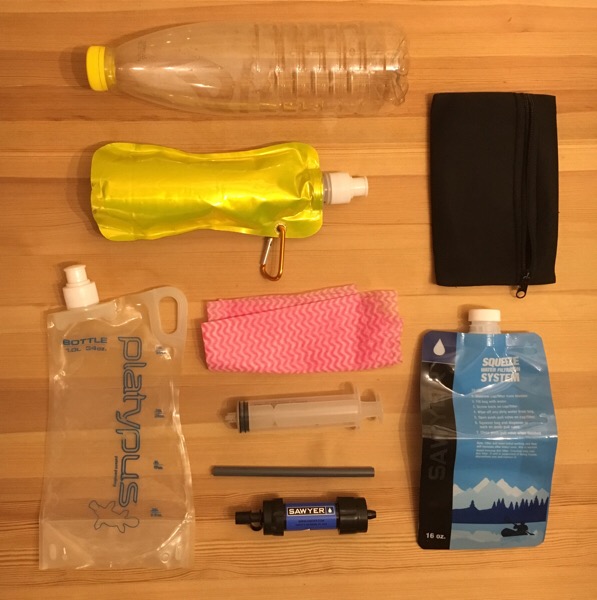 Platypus 1l roll up bottle – 500ml roll up bottle
The real advantage of these very lightweight backpacking water bottles is that when empty they take up very little space in my bag. I like the sports tops not only for use on the trail but it makes for ease pouring when cooking. Both bottles fit in the external side pockets of my various packs.
When I get home I inflate the empty bottles and let them stand, open, on the window sill until dry – so far they have not gone mouldy.
I'd recommend these bottles for camping, backpacking and outdoor use.
Platypus 2l bottle
I use this bottle when I need more water, particularly when wild camping. I can carry it empty for most of the day and then fill it from a wild source using the Travel Tap filter bottle below.
Platypus bladder
This drinking tube can convert either of my Platypus bottles into a water bladder. After a trip I can disconnect the tube and it is easy to hang up and dry and it has not gone mouldy.
2l Platypus bottle and drinking tube
Camp Water Bottle
I used to use a British Army water bottle when camping but after many years of service the seal in the lid failed. Rather than but another bottle, I decided to use a recycled 1.25l juice bottle – extra capacity and much lighter than a commercial bottle.
Sawyer Squeeze MINI Water Filter
This a is lightweight, easily packed water filter. I am using a neoprene pencil case to carry all the components of the kit. I only use pink cloths for dirty water duty.
Water Treatment
Treating wild water so it is safe to drink can be very simple – just boil it! However it can get complicated using filters and treatments. Here is a link to an excellent explanation about water treatment from the US Centers for Disease Control and Prevention.
A Guide to Drinking Water Treatment and Sanitation for Backcountry & Travel Use.
SiS Go Hydro tablets
I regularly carry a pack of SiS Go Hydro tablets, which I made up in my 500ml bottle. I find these tablet a great way to carry an electrolyte drink and to make the backpacking water more interesting, for those times when I need it.
On multi-day trips I use SiS Rego at the end of the day so I am ready for the next day's walk. I really recommend this, I always use it and it makes long hikes much more enjoyable.
A good thing about these products is that they are readily available at camping shops and even in Tesco.