Although my plans for this weekend have been changed by the weather – I had already packed my backpacking food for the trip.
The original plan was to have lunch in Coniston and then walk up the Old Man of Coniston and find somewhere to camp out for the night. We would be back in Coniston for lunch on Sunday.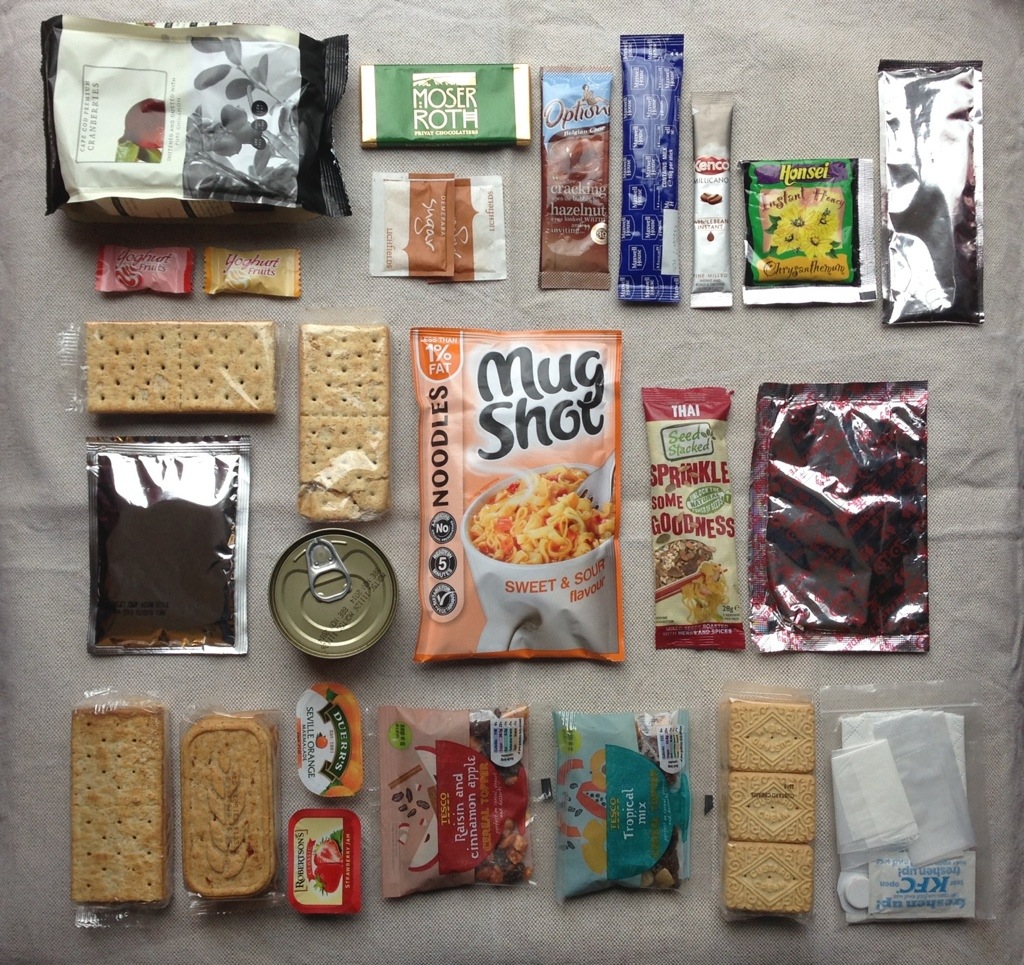 Backpacking Food
This menu is for a short weekend and suits my appetite – you should consider your food needs and the terrain you are travelling through when planning your menus.
Trail snacks
Food for during the day. We were planning to stop and make a hot drink on the way up at Low Water.
Dried cranberries
High cocoa chocolate
Boiled sweets
2 in 1 coffee sachet
Evening meal
It takes just over a litre of water to make up all the components of the backpacking food in the evening meal.
Cup a soup with crackers
Tin of tuna with tomato sauce and crackers (if I was hungry I can eat these on the trail)
Mug noodles with spiced seed sprinkles
Chinese hot sesame dessert
Cappuccino
Breakfast
Tea and biscuits in bed first.
Breakfast biscuits and jam
Crackers and marmalade
Dried fruit
Fresh ground coffee (this is not shown in the photo – I carry it in a small Nalgene pot)
Extras
Black coffee sachet
Hot chocolate sachet
Sugar packets
Chrysanthemum honey tea – can be drunk hot or cold
Packet of tissue, hand wipe and rubbish bag
Backpacking brew kit – tea for the weekend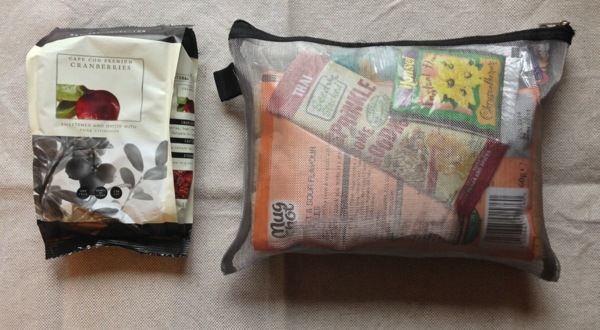 backpacking food packed – the brew kit is not in this bag – the cranberries go in my pocket
Water
I was planning to carry my Travel Tap bottle and a 1l roll up Platypus bottle. At the start of the walk I would have about 300ml in the Platypus – and the plan was to fill all my bottles using the Travel Tap at Low Water before continuing up to the summit. This should be enough water for the wild camp. On the way down I would collect some more water if required.