Here is the review of my backpacking and camping kit for 2017.
Changes and new purchases were few in 2016, with the major items of my kit, tent, sleeping and cooking gear all performing well. As ever weight and compactness is a factor – not only for carrying the gear when backpacking but also there is not a lot of excess room in my MX-5.
My current gear list spread sheet, showing the weights, is available as a free download here.
---
The Good
Alpkit Kraku gas stove
This is a brilliant stove but I had a problem with it at a camp towards the end of 2016.
On the Saturday evening the seal between the gas bottle and the stove failed. This led to a spectacular effect when I lit it. The excess gas that had leaked out, and had then been caught by the wind shield, ignited! I then had two flame sources, the conventional one and a large yellow flame coming out where the burner met the stove. I turned the gas off and blew out the extra flame but it did mean no hot drink that night and a McDonalds breakfast the next day.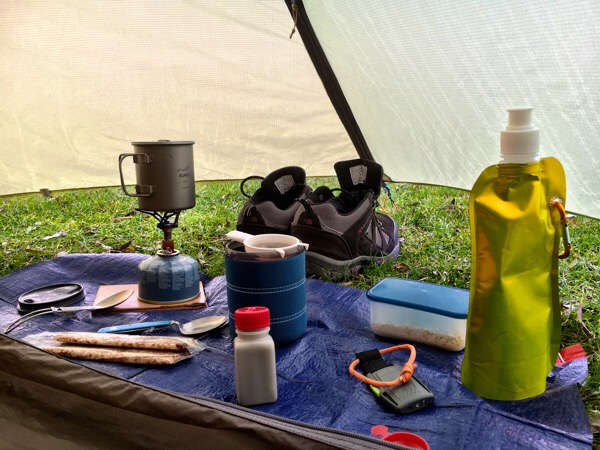 Earlier in the day – breakfast in bed
On examining the seal it appeared to be compressed (and then burnt) probably by use, I use the stove a lot. I emailed Alpkit who were great. After exchanging a few emails they sent me a replacement washer and a couple of spares. The stove is now as good as new – even after this experience I still believe this is the best backpacking stove on the market.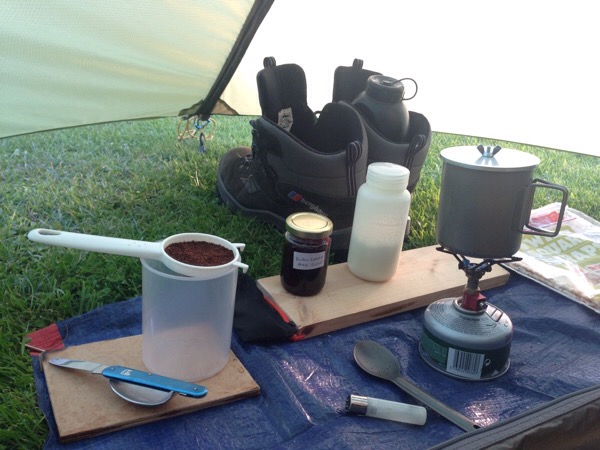 Early morning coffee – Dunbar Camping and Club Site, with the Alpkit Kraku stove.
Update April 2017 – May be this should be in the "Failed" section below?
Whilst at camping Lauder, in April 2017, I had more problems with the seal in the stove, but I had anticipated this and took my titanium meths stove with me as a backup.
The next morning, I dropped into Edinburgh and borrowed Jeremy's MSR Pocket Rocket.
On examination my early version stove was not working well with the new o-rings. I guess I was going to have to replace the stove. I did seriously look at the new lightweight MSR Pocket Rocket, but in the end the size of the Alpkit Kraku just cannot be beaten, so I bought another one.
I had four years service out of mine for £25, not bad value. Comparing the old to the new versions there are some differences in design, especially with how the o-ring now seals to the gas canister and in the placement of the control valve. Hopefully these changes will make all the difference.
---
The Failed
I do not think there were any failed items last year but two items reached the end of the road.
British Army water bottle
I had used this Army water bottle for many years but in the summer the cap seal broke and I ended up recycling the bottle. I had looked at a number of replacements but the selection of roll up bottles seemed to be all I needed.
However on my winter trip to Aviemore in January 2017 I found a replacement bottle. A recycled orange juice bottle from Lidl. I decided it would make a good replacement because it:
it is 1.25l capacity
weighs next to nothing
is the right size and shape to fit in the side pockets of my various backpacks
the price was right!
---
Rab Mummy Silk Sleeping Bag Liner
I had to replace my silk sleeping bag liner – the seam had been repaired several times but now was splitting every time I used it.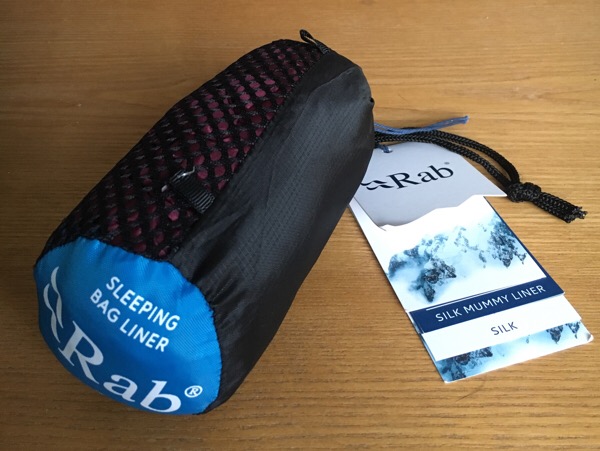 This liner weighs less than the old liner.
---
The New Backpacking and Camping Kit
There are only a few changes to my camping kit for the coming year.
Sawyer Water Filter
I replaced my water filter with this Sawyer model as it is a lightweight system that is easy to carry when travelling.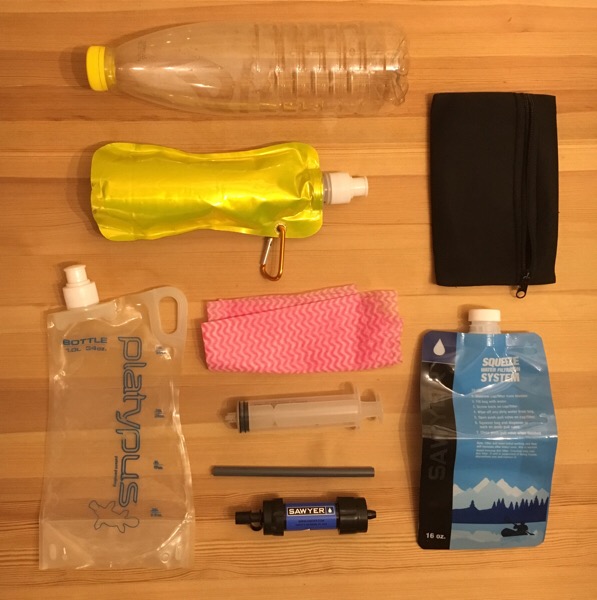 recycled 1.25l juice bottle at top
The filter, straw, dirty water bottle, cleaning syringe and cloth all pack in to the black neoprene case. I only use pink cloths for dirty water duty.
Read more about Camp and Backpacking water here.
---
GSI Infinity Backpacker Mug
This was an impulse buy in Scotland in the summer and it has proved very useful.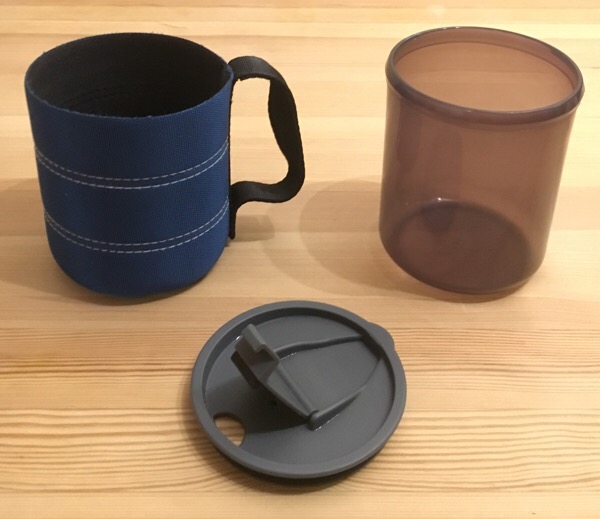 the jacket and lid keep drinks (or food) hot
it is a good size to eat from
it is easy to rehydrate food in – again the jacket and lid help keep the rehydrating food hot
the lid makes it a useful container to pack food in when travelling
capacity 500ml
weight 99g
The down side is that it has added weight to my pack if I carry it when backpacking. But it is useful.
---
Alpkit MytiPot 900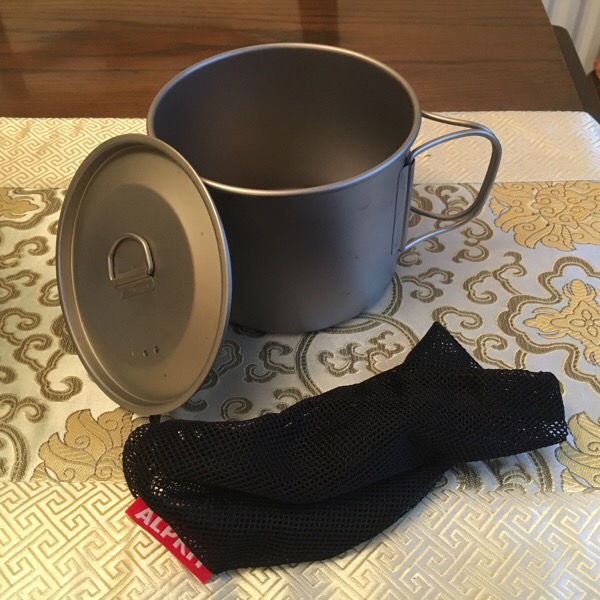 I bought this pot for camping trips when Diana is with me or for those times I want to make a larger meal. It was from Alpkit and was exceptional value.
made from titanium – light and strong
flat bottom for easy cleaning
weight 120g
---
iPod Touch
Having the iPod for entertainment when away, extends the battery life of my iPhone 6S. I used the iPod so much that I upgraded to a 32GB, 5th generation iPod. More storage space for books, audiobooks, comics and videos and a better camera.
Installed apps:
OneNote, my "do not leave home without" app
Camera+, primarily used for photo editing
PressSync, blogging
iComix, comic reader
I use Apple's iBooks and the Music app
It's Playing for video
OneDrive and Cloud Indeed to access files in the cloud
DS File to access files on my NAS
iFlash Drive app – with the iFlash drive I now have a memory stick for my iOS devices
Office 365 – I installed these because I had room and the iPod makes a useful second screen for work when away
---
Revising my possibles gear
One item of my kit that had started to bloat was my possibles and repair kit so I ruthlessly went through it and reduced the size and weight.