It is impossible for me to move around the house, let alone leave it, without my tech. This has been true since I bought a Psion 3a and then all the PDAs and smartphones I have owned since. So naturally I want backpacking technology. In the early years I used a PDA as an ebook reader and a notebook. Then I got an iPod, and better PDAs. Later when I bought Memory Map the PDA became my GPS. Then mobile phone camera technology improved and I left the digital camera at home. Then I was connected to the Internet and blogging whilst away. And I cannot resist, once I am settled in my tent at night, watching a movie on my phone whilst wild camping on a mountain.
But all of this meant I need power where there were no mains plug sockets!
Backpacking Geek
Smartphone
My current smartphone is an iPhone 6S with 64GB and a huge data plan, which I make use of for both work and personally. Octagon Technology run a hosted exchange server and cloud servers so this iPhone is a great tools for keeping up with work whilst away in the hills, camping and walking.
As I use the iPhone out and about and sometimes not in the best conditions, I have fitted a toughened glass screen protector and a case.
My previous iPhone 5 in a backpacking tripod bracket by Square Jellyfish.
Memory Map
This is a top bit of backpacking technology for the geek who gets out and about in the hills and mountains.
Memory Map was a major change in my use of technology whilst walking – electronic Ordnance Survey maps with GPS. I had a large collection of paper OS maps covering many areas of the UK, this software replaced them all and when I need a paper map I can print it from Memory Map.
When I first bought the software I had a Dell PDA with an external GPS receiver and I thought it was great.  Later I moved the software onto an HTC Pro smartphone which had more storage for maps and a built in GPS, then onto an iPhone 4, iPhonen5 and now on my iPhone 6S.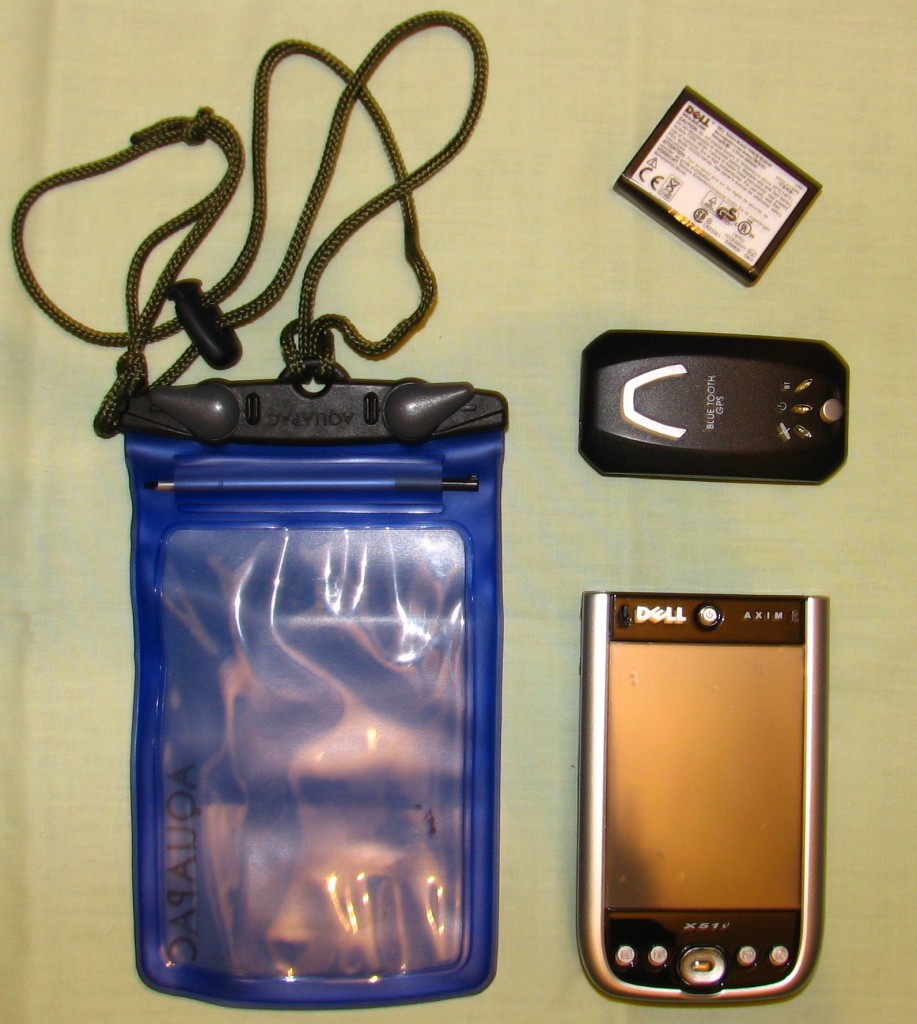 My Dell PDA/GPS, a spare battery and a waterproof case that I used when I walked Wainwright's Coast to Coast in 2008.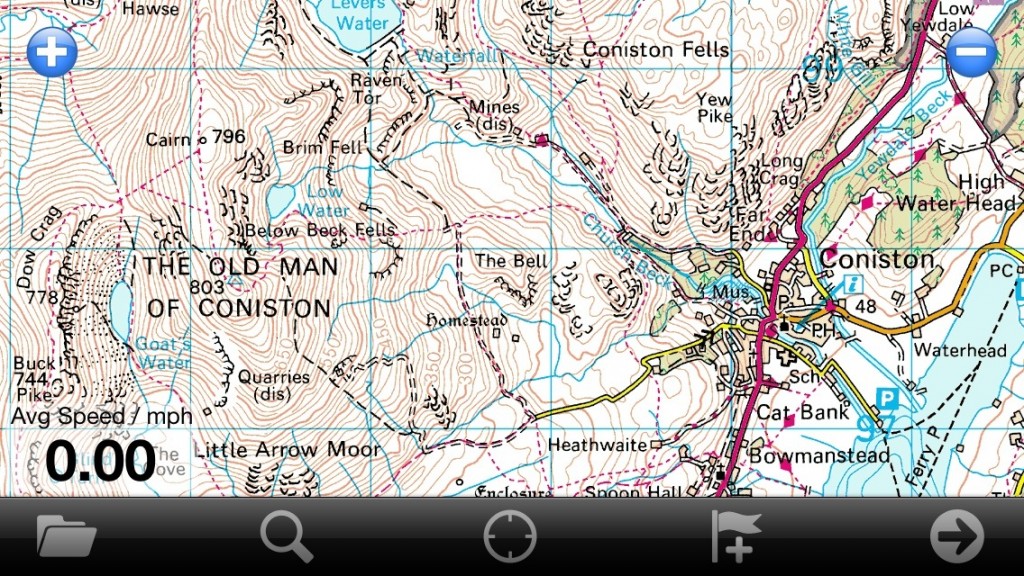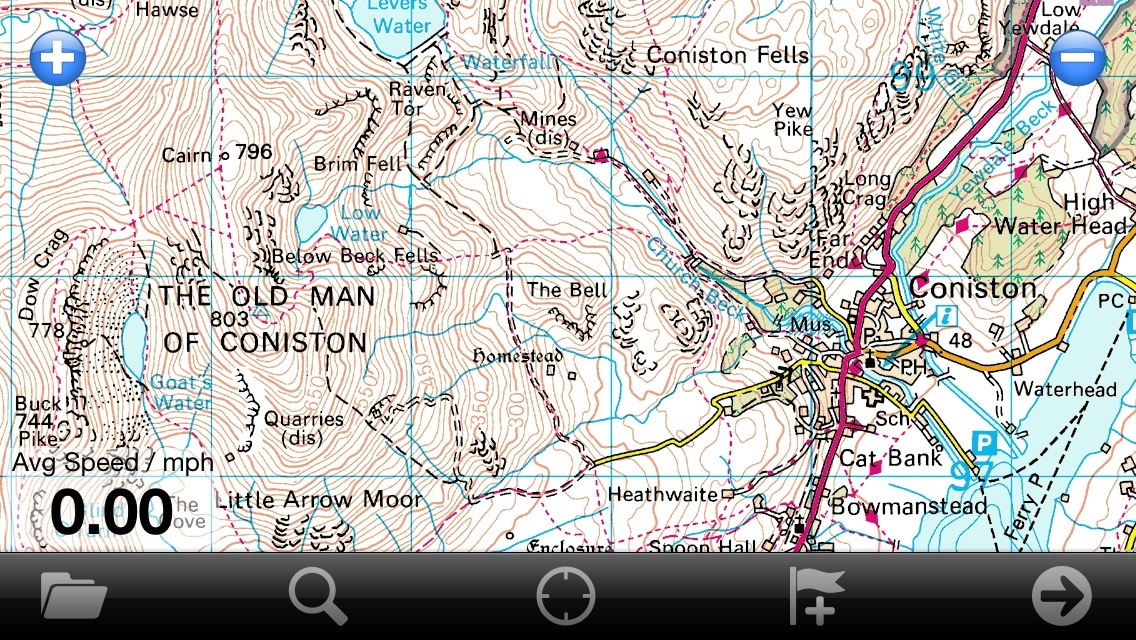 Memory Map – above an OS 50k map displayed on an iPhone 5
The PC program enables me to create routes and points of interest on the larger screen and then transfer them to the iPhone for use in the field. I can review routes on my PC and examine the elevation of the paths and timings of a walk.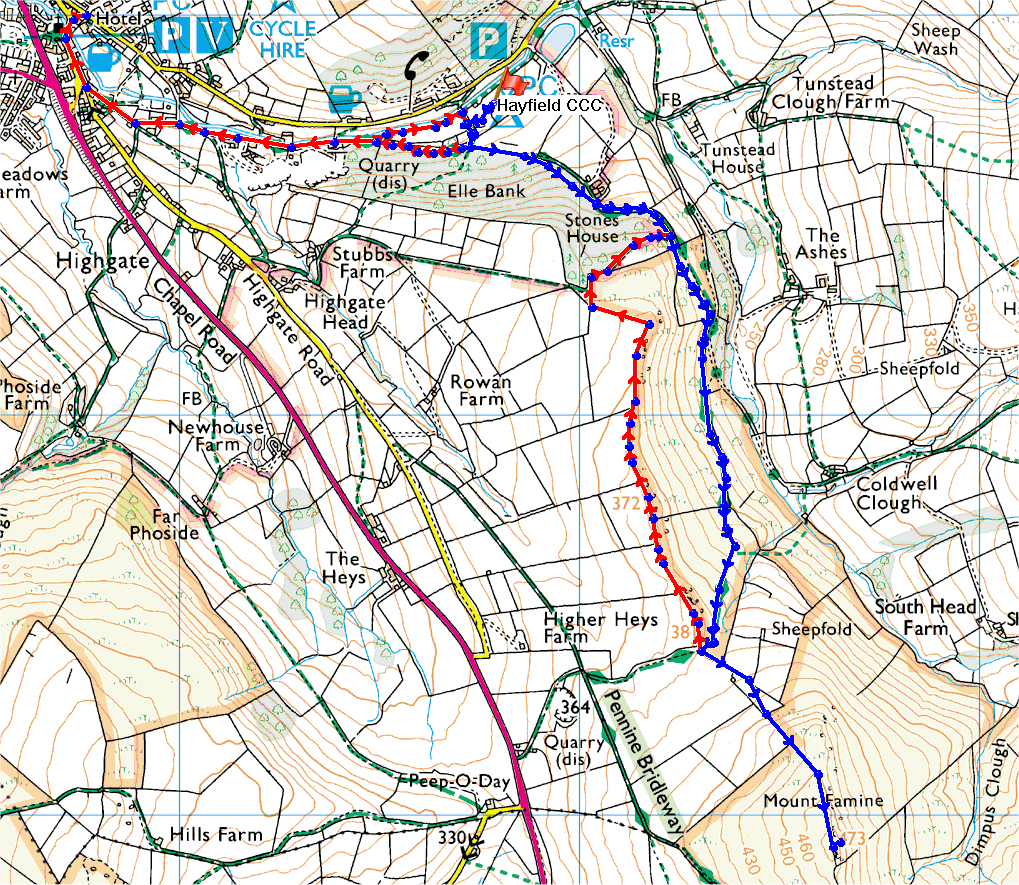 Below is the elevation for the blue route above, (Here is a post of the walk above and a panoramic photo from the summit.)

Whilst walking I can easily record notes attached to markers on the map – it is really useful when I want to record some information about a photograph I am taking. This information and tracks can be transferred back to the PC.
For longer walks and in unfamiliar country I can print out the maps from Memory Map, including the route overlays.
I updated my 50k Ordnance Survey maps in January 2014.
Memory Map and Cloud Storage (DropBox and OneDrive)
To make using multiple routes in the iPhone version of Memory Map easier, I store my routes and marks (.gpx files) online in my OneDrive. For a full description of the technique see this blog post.
Update July 2014
What to do in the evenings?
Mostly I read when I am in my tent in the evenings, but I also read whenever I get a chance. so a book is an important part of my backpacking load, but paper books add weight.
I read a lot and always have (my Dad encouraged me to read from an early age), now I need to read just to get to sleep – so a large book was always part of my load for any trip, and when I went Inter-railing or other long travels that was several large books added to the pack – and a need as I went along, to buy or trade for more. One of the earliest programs I got for my Psion was an ebook reader (but I am not sure we called it an ereader then) and copyright free books came via CIX Online Conferences – that meant I could carry a selection of books, slipped in my pocket. Every PDA or smartphone I have ever owned since, the first thing I need to sort out is how I am going to read books on it – obviously today that is much easier as everybody knows what a Kindle is and ebook readers are sold in supermarkets.
To read books in my iOS devices I use iBooks from Apple as there is an extensive free and paid for library available through iTunes and it will read my collection of DRM free ePub books.
I organise my ebook collection on my laptop using Calibre. Calibre also takes care of converting DRM free books from various file types to the ePub format required on the iPhone. The same software can also manage the books on the various devices.
I have just counted the books currently on my current iPhone 6s and it is over a hundred epubs and PDFs, including some large reference books and coffee table publications, and they do not add a gram to my pack weight! To extend this collection I have an extensive collection of books online. I have uploaded a selection of books from my Calibre Library to my DropBox and I use eBook Search Pro to easily access these books.
More entertainment
If I have the battery power to spare I often watch a video or listen to an audiobook or podcast on my iPhone or iPod in the evening.
Cameras and apps
When good quality smartphone cameras became available, it meant that I stopped carrying a separate camera and simply upgraded my phone – and I keep upgrading them to get better and better cameras. When I got my first iPhone I quickly added photography apps to it so I could edit my photos right there in the phone as I went along.
iPhone Photo Apps
Apple camera app – the latest version is a good camera and includes a simple to use panoramic feature
Camera+ – a full featured camera and post processing app
Communications
It is a smartphone – so I use it as a phone, texts email etc, and I blog about my backpacking trips whilst in the field – here is a blog from one weekend away.
For blogging from my iPhone and iPod I use the PressSync Pro app. This app has most of the features needed for running a WordPress site and blog from an iOS device including the ability to prepare a post (or page) offline. I tried using the WordPress app but it had to upload images whilst editing which was an issue when in the hills with little or no signal. With PressSync I write my posts when I want to and upload them when I get a signal or wifi.
2Ah emergency charger and external power bank packs
I am a heavy user of my iPhone. When outdoors I use it for map reading/GPS, writing this blog, taking and editing photographs etc etc etc. This means keeping it charged is an issue. When I have my car with me I can plug it into the cigarette lighter socket or use a power inverter and the mains charger but when I do not have the car, I need another plan.
In my outdoor gear I have an 2Ah emergency iPhone charger to charge the phone in an emergency.
I had a 10Ah external power bank pack  but it failed, so I replaced it with a 20Ah unit but after a very wet camp in Essex this pack was damaged – now I have two packs, a 25Ah unit and a 50Ah unit. (See my article here about the real capacities of these External Power Bank Packs real capacity values and my reasons for having two packs.)
These external power bank packs have the following features:
Large power storage – multiple recharges without the need for mains power.
Two USB ports, 5v at 1A and 5v at 2.1A.
Two devices can be charged at once.
My iPad can be charged from the 2.1A socket (when car camping I often take my iPad)
The 25Ah external power bank pack is very lightweight and slim, ideal for backpacking and even for taking to work when I am working in London but not using the car. The 50Ah model is large and very heavy, more suited for car camping, especially when I am using my Mazda but if I was planning a longer backpacking trip away from the mains it would be worth the weight sacrifice.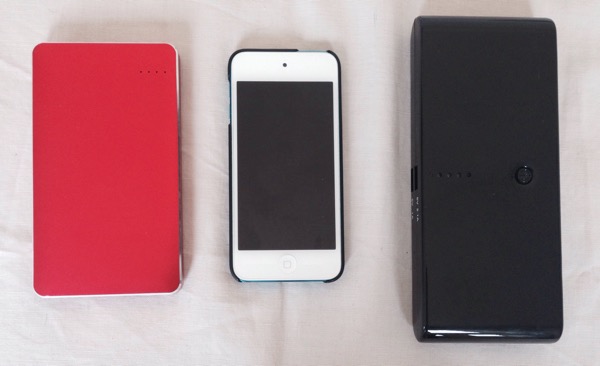 25Ah – iPod Touch – 50Ah external power bank packs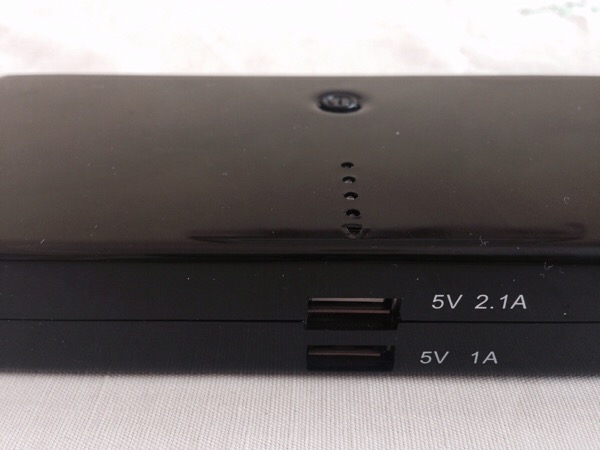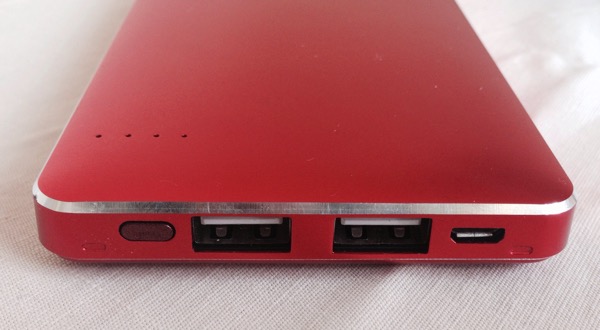 The sockets are "auto-sensing" so either can provide 2.1amps or lower as required.
MP3 Player
To help preserve the battery life on my phone I have used an 8GB Apple iPod Nano, as part of my outdoor gear, for entertainment whilst walking and camping. Diana bought it for me whilst I was practice walking for the Wainwright's Coast to Coast Walk in 2007 but by the summer of 2014 the battery had faded.
For a while I used an HTC Wildfre S, Android phone converted to be a PDA/MP3 player – see the article here. However this was an Octagon spare phone and I had to "give it back"!
Apple iPod Touch
When I was using an old phone as my MP3 player it was useful to have a spare phone and GPS with me, but it was not essential. When it came to replacing my walking MP3 player cost and weight were a big consideration, then came functionality. The choice in the end was inevitable – an iPod Touch.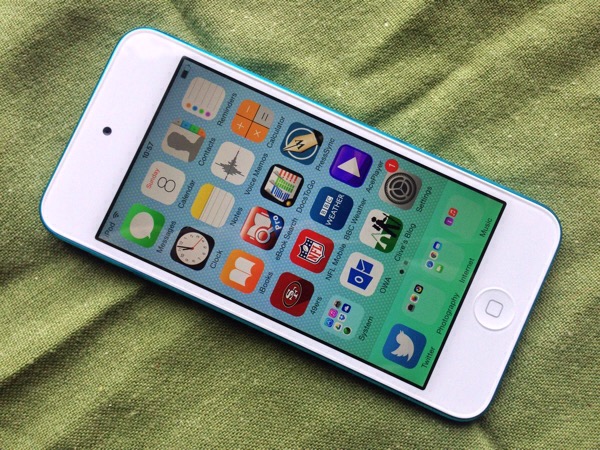 I have an iPhone and an iPad and use iTunes for sharing media between devices. It took only a few minutes to fill my new iPod Touch with music, podcasts, ebooks and audiobooks.
By getting the iPod Touch rather than the lighter, smaller iPods I could use it as a ebook reader – I read a lot and if I can save using my iPhone for this it has a big impact on my phone's battery life.
I originally bought the 16GB version, when iOS 10 was released I upgraded to a 32GB model.
Apps
The Touch has a good iSight camera and wifi. Here are the apps I have installed.
OneNote, my "do not leave home without" app
Camera+, primarily used for photo editing
PressSync, blogging
iComix, comic reader
I use Apple's iBooks and the Music app
It's Playing for video
OneDrive and Cloud Indeed to access files in the cloud
DS File to access files on my NAS
iFlash Drive app – with the iFlash drive I now have a memory stick for my iOS devices
Office 365 – I installed these because I had room and the iPod makes a useful second screen for work when away
NFL GamePass and SF 49ers apps.
This device is mine, not Octagon's, but I may need to do some work on it.
Cables
I carry a miniature Apple lightning cable.
Waterproof case
I have a protective case for the iPhone so I can navigate, blog and take photos in the rain and bad weather.
And backpacking technology I do not use…
I never use the electronic compass app, supplied with the iPhone, I depend on a Silva compass.