I was determined to make a backpacking wash kit up that would (almost) fit into the case that the travel towel came in.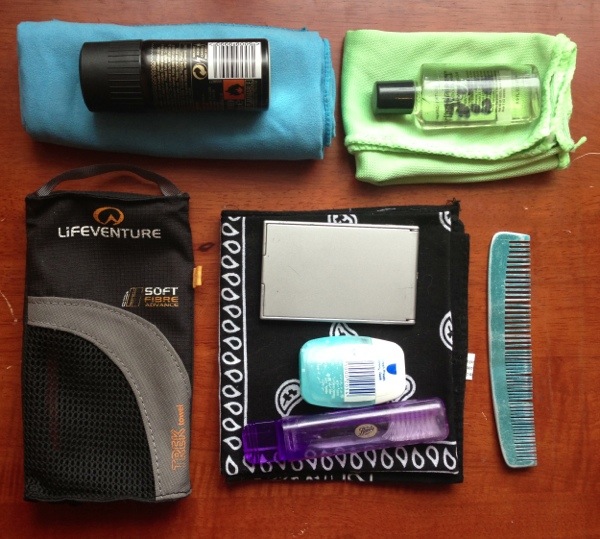 Contents – backpacking wash kit
Small Lifeventure travel towel
20ml bio-degradable mulri-use concentrated liquid soap – multi-use concentrated bio soap can also be used for washing up
Travel toothbrush – I am no longer carrying the case only the short toothbrush
10ml liquid toothpaste – the bottle was a giveaway sample
Comb
Fold up travel mirror – from a Christmas cracker
20cm square high absorbent cloth
Bandana
Travel sized deodorant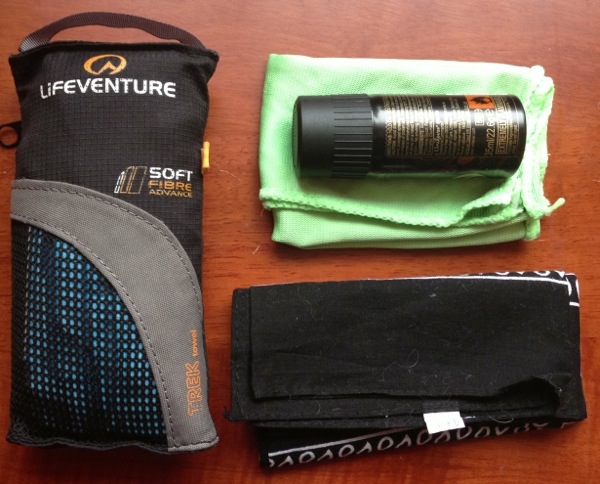 Nearly everything packs into the Lifeventure towel pouch. For a shower I need the extra hi-absorbent cloth as well as the towel for drying off. The bandana has multiple uses when I am away, from basic drying my hands to filtering debris out of the water I collect in my water purifying bottle.
I only carry the deodorant on longer trips, I do not bother on one night backpacking trips.
One of the most useful things in this kit is the multi-purpose soap from Lifeventure. The liquid soap is bio-degradable and can be used for personal washing and showering, cleaning clothes and dishes and even cleaning fruit and vegetables. It is concentrated so a little goes a long way – I have filled a hotel shower gel bottle above with the soap and when full it will do two showers if I am careful. I also carry a small bottle of this soap in my cooking kit.
I use liquid toothpaste which I carry in a small bottle that was given away many years ago with a travel toothbrush – I have refilled it dozens of times. However it is easy now to buy travel sized bottles and tubes of all the items needed for a lightweight wash kit.
Update 2014
I no longer carry the green cloth as I found the bandana and the travel towel are more than sufficient for a shower. I do not us the toothbrush cover either.