This page is a little out of date now! For my latest hiking gear updates check the menu above.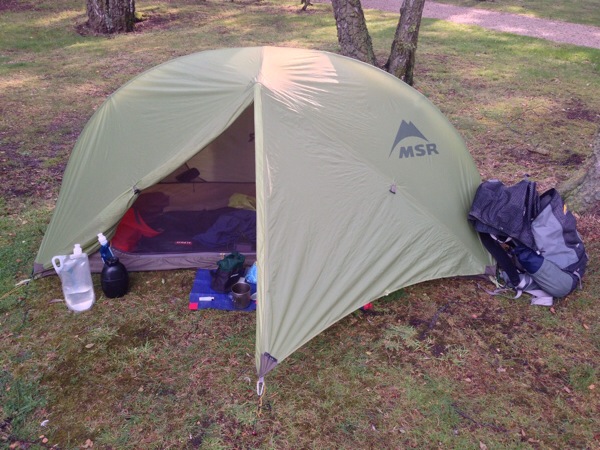 ---
I had not been overnight backpacking, with a tent, for a number of years – using hotels and B&Bs or day walking instead – but having decided to do it again I did not want to be carrying the weight I did when I was at college!
What do I really need for a weekend away?
I looked first at the main, heavy, items I needed.
My Hiking Gear
Shelter
Now a really lightweight option could be a bivvy bag or a tarp and hammock. Neither of these options met my requirements.
You need trees or supports for a hammock and tarp – in short supply on the Lakeland tops.
I also think that some of my travel camping will involve stopping at commercial sites – where a bivvy bag would not be suitable.
Neither met my "comfort" requirement – if I have a day lay over and it is raining I wanted "inside space".
So that meant a one man hike tent. When I started to seriously think about this in the summer of 2010, a search on the internet, brought up a Coleman Bedrock 2 at £17.50. Not he smallest or lightest tent but not too bad, the right price and with enough living space. It was a start.
When I got the tent, it packed reasonably small and went up easy but the pegs were steel and very heavy compared with the rest of the tent. The design of the Coleman Bedrock 2 meant it needed 18 pegs to pitch it. I could save some by doubling up and not using two pegs per door. I eventually bought twelve titanium pegs and found four lighter alloy pegs from one of my other tents.
I have successfully used this tent now for a practice lightweight camp (http://www.clivecatton.co.uk/2011/05/21/light-weight-camping/) and three overnight hikes (not extreme).
However this one item is a heavy component in my bag and I am looking to replace it with something much nearer to a kilo in weight.
Sleeping Bag
I already owned a 2 season Karrimor bag – so I chose to base my sleeping system around that, as I do not think I will be backpacking in the colder months of the year. I like the idea of getting a down bag but I am concerned about keeping it dry over extended trips so for the time being I will use a synthetic bag.
To add to the flexibility and add some extra warmth I have the option of two liners for the bag.
Lightweight, compact silk liner – it does not add much extra warmth but it keeps the bag clean.
Fleece liner – adds another season to the bags rating but it is heavy, it weighs as much as the Karrimor bag and is bulky to pack as it does not compress easily.
Another option for sleeping is to pack my winter long underwear, wool socks and even my fleece hat and thermal gloves and use them as a sleep suit. The space and weight for these items is reasonable.
For comfort and warmth I take a mid weight self inflating sleeping mat.
I am not sure I will be looking to replace the sleep system for the time being – as this combination is reasonably light and will deal with the conditions I am planing to backpack in.
Backpack
When I started thinking about going backpacking again, the one item of kit I no longer owned was a large rucksack.
I do own a Karrimor Hot Lite 30l sack, that I bought in the mid 1980s. When I bought the sack I made a few additions to it by adding fixing points for side pockets, loops over the top lid and a non padded waist belt. I also put a stiffened foam mat in the back to add support. By attaching the pockets it increased the capacity to 36l.
I decided to use this bag and "just go with it" even though it was a bit small – it would help keep the weight down. To save space in the bag I strapped my sleeping mat and tent poles to the top and carried a water bottle and my brew kit in external pockets.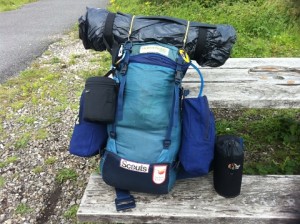 It worked and I had a good weekend away. However the older design of bag and the fact that I added the hip belt meant that carrying the load was not very comfortable. The shoulder straps and the DIY belt did not give enough support, the bag did not move freely on my back and the load stress was transferred to my lower back not my hips. It was evident that this bag would not do for anything but the shortest trips.
Having done my research online I opted for a GoLite Jam 2 sack with the longer back length. I have used it on one trip and still have to work out the best way to load my gear in it – I put the tent in the front (only) pocket and that did not work out too well.
Features that made me buy it,
Lightweight 840g listed
Strong lightweight fabric
modern features – water bladder carrier, external side/grab pockets, hip belt pockets etc.
Comfortable design, good hip belt and shoulder straps
Designed for lightweight backpacking
To increase the comfort I have transferred the stiff back pad from my old sack to the GoLite – this has also helped with the packing as it adds structure to the bag, but has added 160g to the weight!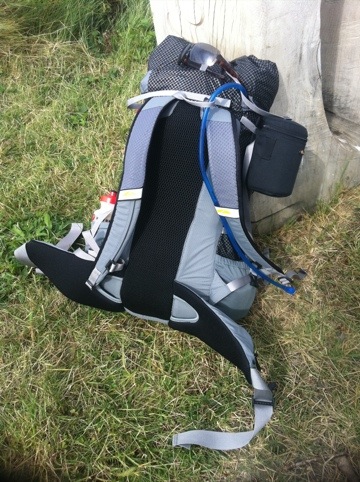 I chose a pack of about 50l because I was very aware of the problem that if you have a big bag you will eventually fill it with hiking gear. By limiting space I was setting a limit on what I will be carrying and so that will help keep the weight down. If I need extra volume for an extended trip, where I needed extra food, water and clothing, I could carry my sleeping mat externally.
Stove and Cooking
The first choice is what fuel to use, for me the choice was between gas and meths. If I simply looked at weight then meths are lighter for short trips but as the hike gets longer the weight of meths soon increases (at about 75-100g per day) and so gas gets to be the lighter option. Gas burns hotter so is more efficient per gram carried when compared with meths. Some draw backs are not knowing how much gas is in the canister (weigh it and keep a track of what you use) and when the can is full you have to carry it all – I only carry the meths I need.
Both meths and gas burners come in titanium versions.
However for me I opted for meths – I was attracted by the simplicity of the equipment – I use a Titanium Vargo Triad XE Alcohol / Fuel Tab Stove, about as simple as it can get. If required it can be used with solid fuel tablets – and I carry two tablets inside the burner as spare fuel.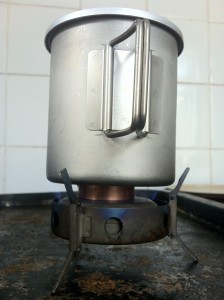 I carry a base board to stand the stove on to protect the ground and give the stove some stability.
For meths to work efficiently it needs a good windshield. I tried heavy duty aluminium foil but I found it did not work as well as I'd hoped, so I cut down an aluminium wind shield. After the trip below I also removed one of the panels.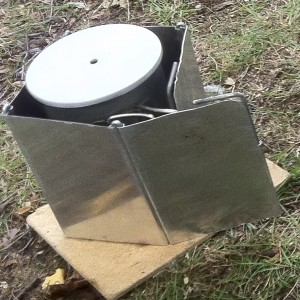 I use an MSR titanium mug as a pot, with an aluminium lid I had made by The Little Frog Group. Sometimes I drink straight from the mug – taking care not to burn my lips on the heated metal – other times I use a plastic beaker I salvaged from an old Thermos flask. The second mug is also useful when you meet someone at a campsite and you want to be sociable – you can make them a tea as well. The Ti mug is supported on a copper ring, again produced for me by The Little Frog Group, to improve the burning performance of the stove.
Other cooking utensils are
A beaker with a lid, great for rehydrating food in, I keep it warm, whilst "cooking" the food by covering it with my sleeping bag.
A GSR silicon pot lifter, I removed the magnet from it as it kept sticking to the wind shield legs.
A small Light My Fire Spork.
Two disposable gas lighters
A Victorinox Camper SAK provides a knife, can opener etc.
I cut a plastic tile down to make a 6cm x 12cm cutting board.
I carry a 1l Platypus roll up water bottle, this is not essential but it is convenient when at a campsite to have extra water.
I take 2 or 3 plastic bags with wire ties, for keeping open food in and for rubbish bags.
To wash up I take just enough washing up liquid in a hotel size shampoo bottle, I cut a pot sponge in half and use a high absorbent cloth to dry up with. Half a kitchen cloth and some tissues are useful to mop up spills whilst cooking and eating.
I carry 150ml of meths for an overnight trip.
Food
I do not buy special camping and hiking food – part of the fun is finding those items in the supermarket that are suited for a lightweight hiking trip.
A comprehensive list of the foods I use is included in the spreadsheet.
Wash Kit
Again small is key. The whole kit is packed into the case for the Lifeventure towel.
Lifeventure small towel
hotel soap
comb
small sample bottle of tooth paste gel
folding toothbrush
folding mirror
hotel bottle now refilled with bio degradable liquid soap
In addition I carry a 30cm square high absorbent cloth I reserve for personal hygiene.
Essentials and Emergencies
With the basics covered I came onto the next section – stuff I must have.
First aid kit and personal medicines
A small supply of spare clothes
Repair kit
Tools – Victorinox Camper SAK, Swiss Card and mini Leatherman
GPS and electronic maps (Memory Map and iPhone)
Paper maps and compass
Mobile phone (iPhone)
Camera (iPhone)
Emergency food
A plastic emergency poncho (bright orange)
Some spares of other essential items
A full list of these items I carry is in the spreadsheet.
Luxuries
I do carry some luxuries – I am doing this for fun. These include:
iPod
Self inflating sleeping mat – I like a comfortable night
1oz keyring hip flask – for a single malt whisky
A large cooking kit – I like to have enough utensils so cooking is a relaxing camp sctivity
Extra power for my iPhone – rather than reading in the evening I can watch a movie
Check this spreadsheet for the up to date list of what hiking gear I am prepared to carry.