These hiking biscuits make a great trail snack or can be used as breakfast biscuits. The biscuits hard robust enough to survive packing and carrying in a backpack.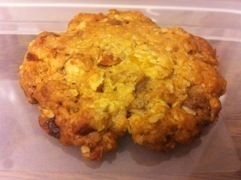 Oat Hiking Biscuits
These biscuits are quick and easy to bake at home the day before you leave on a trip.
Ingredients – to make 12 to 15 biscuits
dry ingredients
75g self raising flour
75g porridge oats
50g sugar
50g raw almonds
5 dried apricots
75g butter or margarine
1 tablespoon golden syrup
1 tablespoon water
Method
1 Preheat oven to 180 C
2 Line a baking tray with a silicon baking sheet
3 Finely shred the apricots and roughly chop the almonds
4 Mix the dry ingredients in a bowl – making sure the apricots do not clump together.
5 Heat the margarine, syrup and water in a pan and stir well until melted together. Add this to the bowl with the dry ingredients. Stir the mixture until all the dry ingredients are combined.
6 Use a spoon and your fingers to shape the biscuits on to the silicon sheet. The mixture will spread when it cooks.
7 Cook for ten to fifteen minutes. Check the biscuits they should be golden brown when cooked.
8 The biscuits should be left on the tray to cool for ten minutes as they are too soft to handle when hot.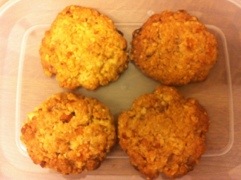 Options
Mix in a heaped table spoon of chocolate chips to the mixture at the end of step 5.
Choose your own favourite nut and dried fruit combination.
Make the oat biscuits with no dried fruit or nuts and change the sugar for 50g of natural brown sugar with molasses.