Here is the review of my backpacking and camping kit for 2016.
I did not have much time last year for many camping or backpacking trips, but when I did get away, I realised that the purchases and changes I have made over the past few years had been good choices – so little has changed this year.
My current gear list spread sheet, showing the weights, is available as a free download here.
---
The Good
MSR Hubba – one man backpacking tent
This tent is still serving me well, although friends and family when they see how small it is are amazed that I can fit into it with my gear.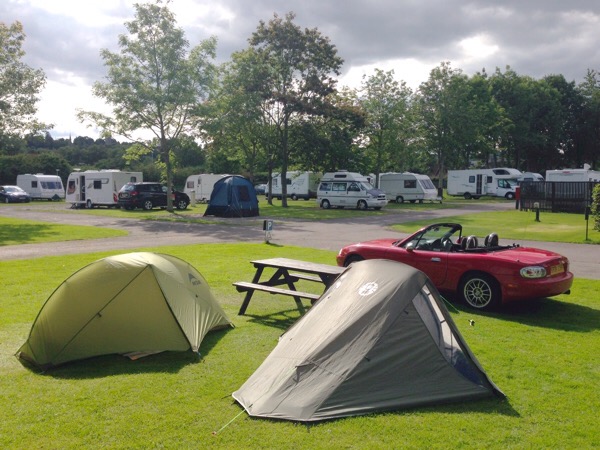 Here the tent is pitched at the Camping and Caravan Club site Dingwall – next to my son's Coleman two man tent.
The compact size of the MSR Hubba is an advantage when I am packing my camping gear into my MX-5 – the boot space is limited.
I changed the way I pitched the tent last year and I have not had a repeat of the issues I had whilst wild camping in the Lake District, even though it weathered a several bouts of heavy rain and wind whilst in Scotland last summer.
My MSR tent modifications – see here.
---
Alpkit Kraku gas stove
This incredibly small gas stove has now completely replaced my Vargo Triad XE titanium meths stove – looking back I realised I did not use my titanium meths stove at all last year.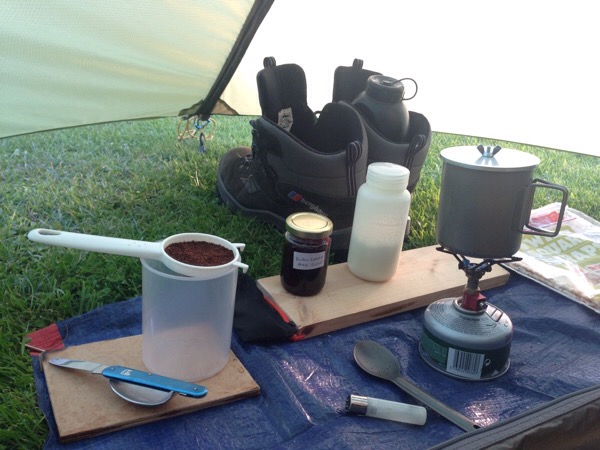 Early morning coffee – Dunbar Camping and Club Site, with the Alpkit Kraku stove.
---
The Failed
I do not think there were any failed items last year.
---
The New Backpacking and Camping Kit
There are really only a few changes to my camping kit for the coming year. I will mention a few of the new items I used last year.
---
Therm-a-rest Neoair XLite sleeping mat
This mat has been great. I was worried about it "crackling" when I was sleeping on it, but that was not an issue. I is incredibly comfortable and warm to sleep on, weighs very little and packs down small.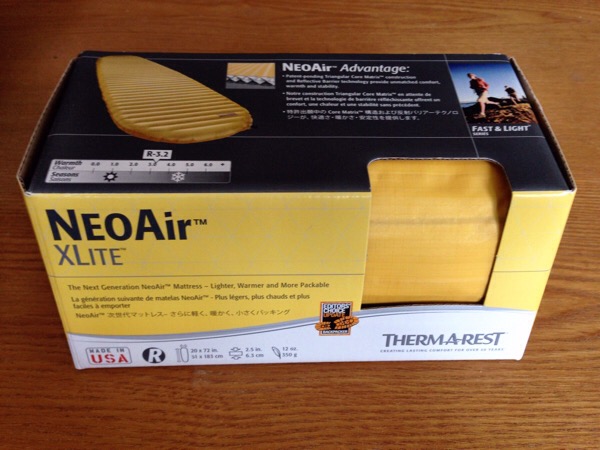 Full length, inflatable mat:
packs down to about a litre in volume
weighs 350g
inflates to about 6.5cms thick
---
Alpkit MytiMug 400 and Alpkit SnapWire Spoon
Jeremy bought me an Alpkit MytiMug 400 with a lid and an Alpkit SnapWire Spoon for Christmas and my birthday, so I am now using these titanium items in my compact cooking kit. Replacing the fixed spoon with a folding spoon has made the packing of the cooking kit much easier – no more spoon sticking out awkwardly when the stuff sack is squeezed into a backpack.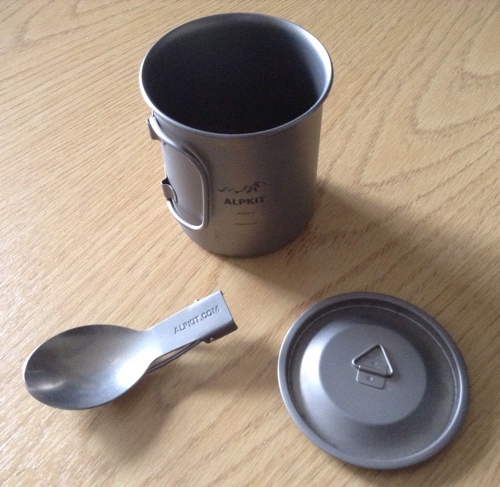 Testing the Alpkit Kraku stove with the Alpkit MytiMug 400
I have also cut down the handle on my tea strainer/coffee maker so it packs easier.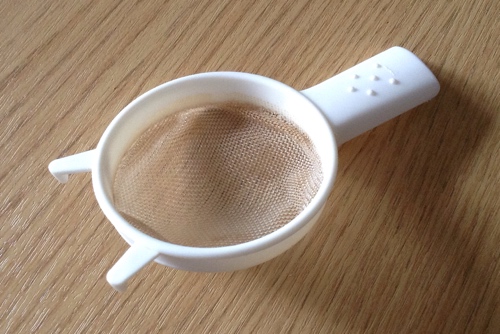 My MSR mug and homemade lid has been transferred to my camping box, with the Vargo titanium meths stove and fuel.
---
iPod Touch and iPhone 6s
The iPod worked out well last year as an entertainment device – extending the battery life of my aging iPhone 5. I have been very please with it.
In December I bought an iPhone 6s, 64GB model. New battery, better camera, better phone and more storage space. My plan for the coming year is to use the iPhone for movies etc when in the car in the evenings, so I will not be taking my iPad camping in future. I will use my iPod when in the tent.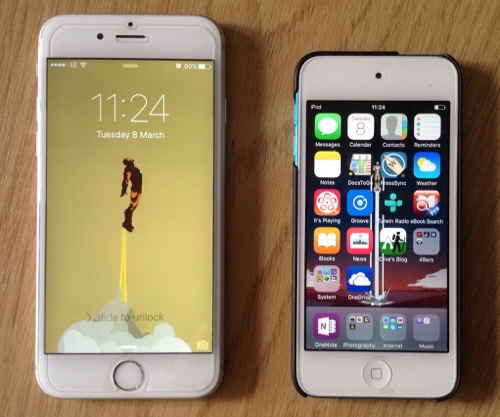 Read more about the tech I use whilst camping and backpacking including the extended power packs essential when using hi-tech kit away from mains electricity
---
Karrimor XXS 2l Dry Sack

I have bought this to keep my tech (and wallet) dry, when It really rains hard! I always have some tech in my pockets and from occasionally I have been caught out in some extremely persistent rain At those times I have put my tech and valuables into my backpack in one of the dry sacks in there. This bag is small enough that when loaded it fits in my pocket.