Beware these are the items that quickly add "hidden" weight to your backpack. Choose carefully what you carry in your "possibles kit".
Must Haves
First Aid Kit and personal medication.
High visibility orange poncho and an emergency space blanket
Emergency food – glucose tablets
Spare whistle, torch, compass and lighter
SwissCard or pocket knife – scissors and blade
Repair Kit – at least a needle and strong thread, safety pins and tough tape
Possibles Kit
This list of equipment includes my emergency, spare and "what if" kit.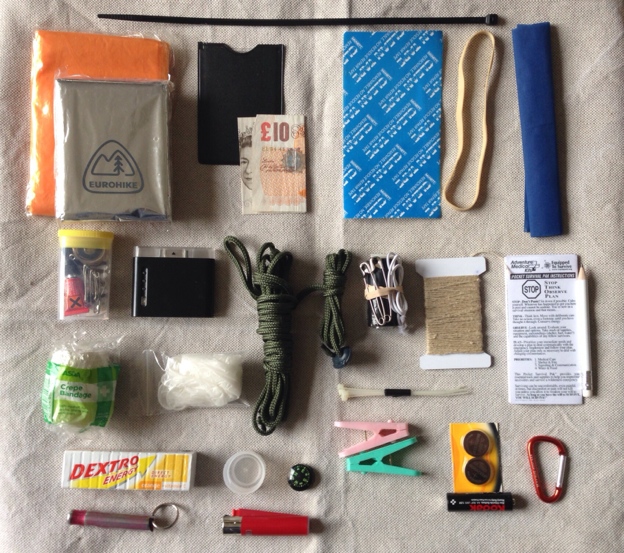 click on the above image for a larger version
* Repair kit (21g)
– 2 large safety pins, gaffer tape wound on the case, 2 large needles, elastic cord, nylon cord (see photo below)
* Strong thread on a bobbin
* 7 various safety pins
* Hotel sewing kit and needle threader
* Mini Super Glue – kept in a plastic box to prevent it being crushed
* large cable tie
* 4 small cable ties
* Nylon patch 15cm x 15cm
* Tenacious repair tape
* 15m thin string on a plastic card
* 1m paracord and cord grip
* 3m paracord and guy line runner (I use this with my MSR Hubba tent as a guy line)
* Button compass
* Small aluminium carabiner
* Spare whistle
* Spare gas lighter
* 2x DL2032 batteries (for my headlamp)
* Spare AA cell (now a "AAA" cell for a Maglite Solitaire LED torch)
* Spare water bottle cap
* Pencil/eraser
* Survival instructions
– use the reverse for notes
* Fresnel lens
* £10 note
* 2 plastic clothes pegs
* 2 pairs of vinyl glove
* Dextrose tablets 14 (50g)
* 4.5m x 5cm crepe bandage
* Emergency orange poncho and Space blanket
* Spare iPhone power pack
Packed in an Eagle Creek ultra lightweight quarter cube case.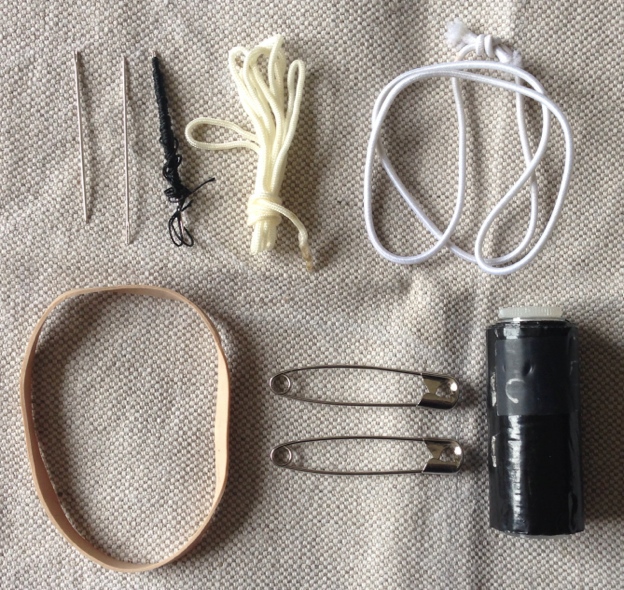 Contents of the repair kit – I have wrapped some strong tape around the tube.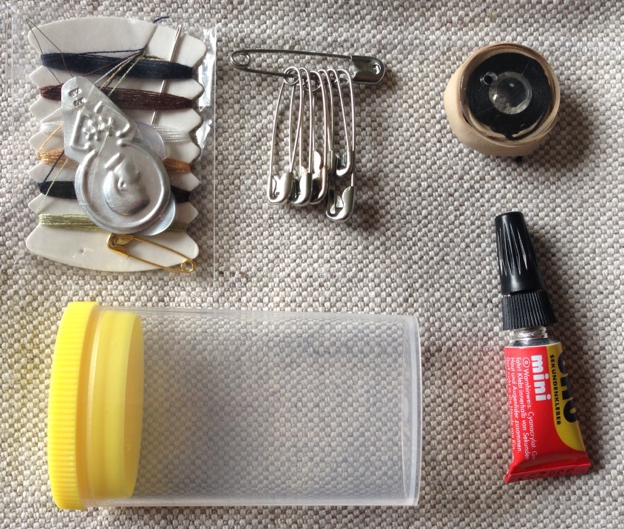 Pocket Carry
Extra to these possible items, in my pocket I carry:
Camper Victorinox Swiss Army Knife
Leatherman P4 Squirt – really useful small pliers
Lifeboat whistle
AA cell LED torch
Mini carabiners – I use these when I pitch my MSR Hubba tent.
All these items are secured on a length of paracord.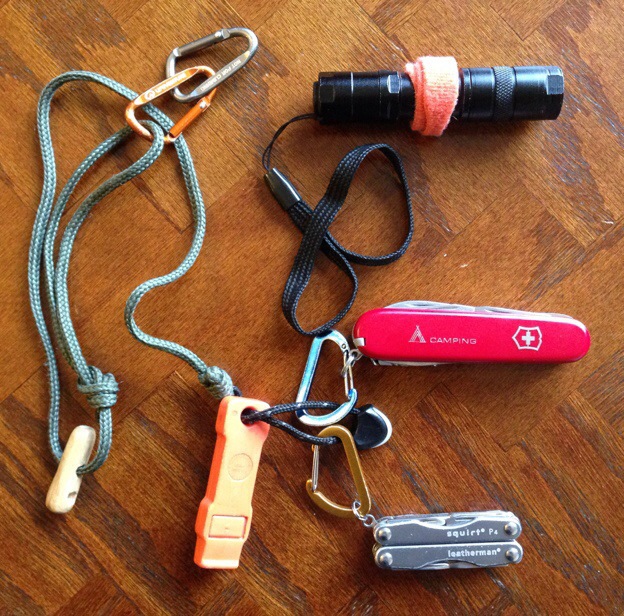 I also carry a SwissCard. The blade and scissors are useful for both first aid and repairs (not shown in the photos)
Note
This is not meant to be a survival kit – but it will let me deal with any emergencies and problems I experience whilst three season walking and backpacking in the UK.
My Current Backpacking Gear List
I have a download link on this page for my current hiking gear list, on a spreadsheet showing item weights.