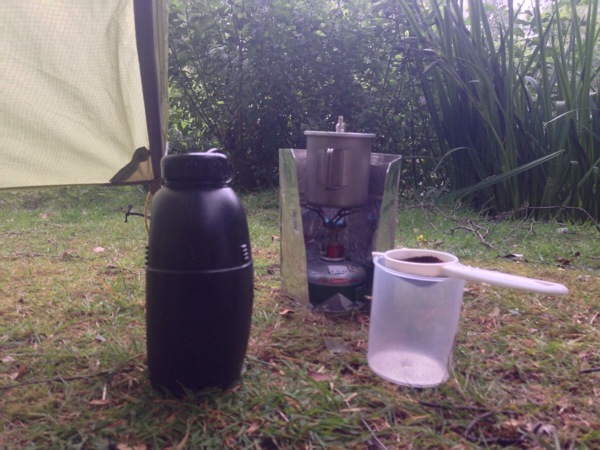 First thing at Woodhall Spa – I had early morning coffee at this camp instead of tea
Menu for the weekend
Weight 750g
Lunch
Tinned Mackerel in Teriyaki sauce
Crackers
Cereal bar
Tea
Arrival at Woodhall Spa Camping and Caravan Club site
Milicano coffee stick and cakes (the warden gave me some milk as they had sold out of 1 pints – otherwise I would have bought some)
Dinner
Sesame flavoured Japanese noodles
I let the noodles cool down then I added a small packet of mixed pitted olives in herb oil and a salad dressing sachet that Mum had left over from her dinner on Friday
Chinese sesame dessert
Peach tea (cold)
Milicano coffee
Tea
Early morning
Tea and breakfast biscuits
Breakfast
Apple Pop Tarts
Dried fruit
Fresh coffee and more tea
Elevenses
Nescafe 2 in 1 coffee
Nutrigrain breakfast bar
Extras
2x decaf coffee sticks
Nutrigrain bar
Hot chocolate drink
I also had my Backpacking Brew Kit, packet of glucose tablet and some SiS Go Hydro tablets.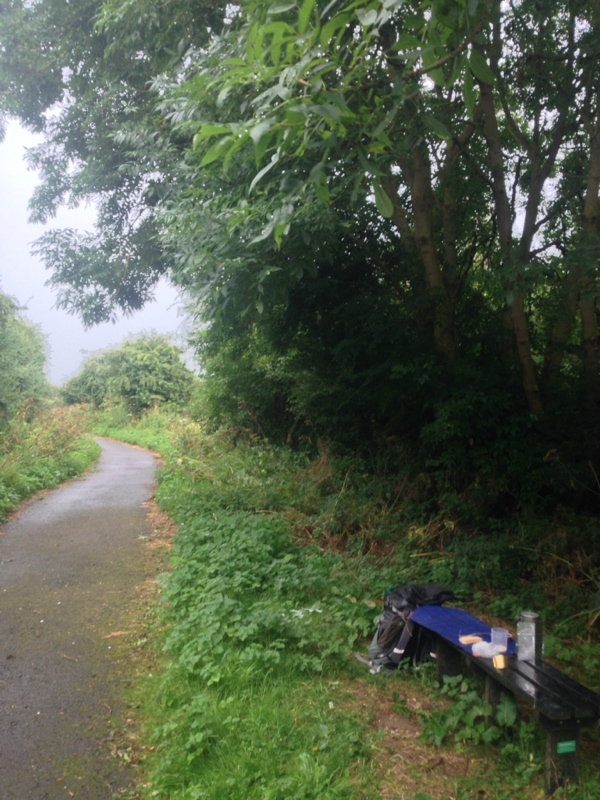 lunch in the pouring rain – getting a little shelter under the trees
Chinese sesame dessert
I got this from a local Asian supermarket – there is no other way to describe it, it is black custard. It is very sweet and tastes strongly of sesame. I like it as an alternative to instant custard.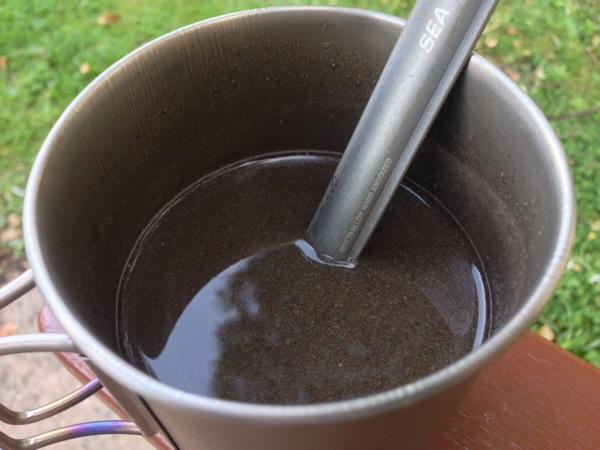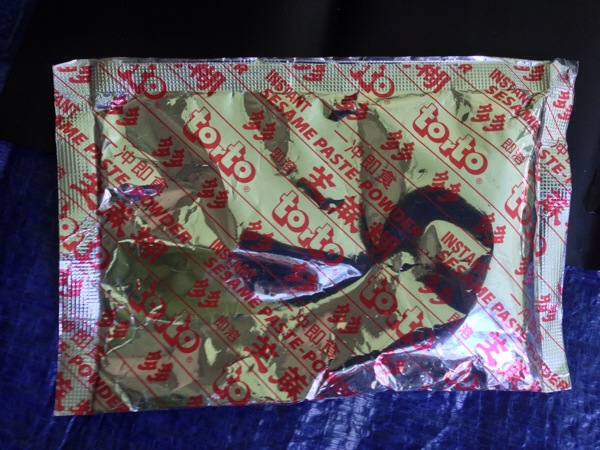 Water
It was a warm humid weekend so I carried 2.5l of water and used nearly all of it. I carried a pack of SiS Go Hydro tablets, which I made up in my 500ml bottle, which I refilled as required from one of my other bottle – I had three bottles of the electrolyte drink. I made tea at lunch and drank nearly all the rest of the water – and it was probably just enough for the conditions.
Once I was at the camp site I was aware how much fluid I had lost during the day so I made sure I had plenty to drink – stoping to make a drink before I even put my tent up.
I walked until about 1pm on Sunday I carried 1.5l of water. I used one of my electrolyte drinks, made hot chocolate whilst I waited for Diana to arrive and drank most of the rest.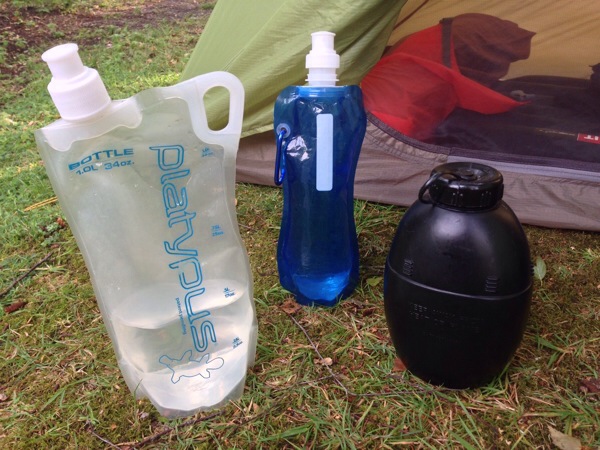 Read about my water choices here.
HTC Wildfire – MP3 player and ePub reader
This is the first full weekend away using this "retired" mobile phone as an MP3 player to replace my iPod Nano. It worked really well. I listened to an audio book all day Saturday and Sunday morning whilst I was walking and at the campsite I read for an estimated four to five hours. The 2.5Ah battery gave out about 20 minutes before Diana picked me up on Sunday, so it lasted the weekend. I had the original 1.2Ah battery with me so I swapped them and carried on reading. If I am away for any longer I will need to take my 20Ah Power Pack with me to charge the HTC. (Read my Backpacking Geek.)
I still used my iphone for my photos, photo editing, blogging, navigation etc, but not using it to read my books on meant that I only used one of my 2Ah emergency iphone batteries. I have used both of them on previous weekend trips.